With the nights drawing in, businesses who have not yet made the switch to LED lighting could be missing out on some serious savings. As well as being a more environmentally friendly choice, opting for energy efficient lighting can play a significant part in cutting a business's overall energy costs, particularly through the winter months, as Woodward Group explains.
Since the clocks went back, UK evenings have been noticeably longer and darker, with many workers seeing little or even no daylight during worktime hours. An increasing amount of research has evidenced the impact that poor quality lighting can have on the physical and mental health of employees, including causing eye strain, headaches, fatigue, stress and anxiety.
With this in mind, it is paramount that businesses really make the most of their lighting, particularly over the darker winter period. But if the more traditional incandescent, fluorescent or halogen bulbs have been doing the job just fine up to now, why should you make the switch to LED lighting? 
What is LED lighting?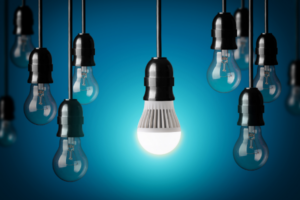 LED stands for light emitting diodes. Simply put, they are tiny lightbulbs fitted into electrical circuits. Unlike regular lightbulbs, LEDs have no filament, which means they won't burn out and don't generate much heat.
LEDs typically use 90% less energy than traditional incandescents. This means they usually pay for themselves through energy savings in as little as a few months. Moreover, energy efficient lighting can last 15 times longer than conventional fittings, which therefore reduces the need for frequent and costly replacements.
What are the benefits for businesses?
In a time where there is a growing pressure on businesses to reduce their carbon footprint, LED lighting can offer a host of environmental, financial and operational benefits. These include:
Reducing the effect of rising electricity prices
Increasing businesses overall profitability
Helping businesses to meet their corporate and social responsibilities
Decreasing carbon emissions
Offering greater versatility; individual fittings can be programmed in a variety of ways such as lux levels, sensor sensitivity, time duration, and luminaire lighting.
Better working conditions for employees
Because solutions can be easily tailored to individual businesses – LEDs can be adjusted to emit warmer, cooler, brighter or dimmer lighting conditions – they can help mitigate against the potential health risks for workers caused by poor lighting. Office workers, for example, could benefit from settings that replicate natural light. As LEDs are also highly directional, they can help to limit screen glare too. 
How we can help
We can provide you with a free proposal/lighting design, which identifies energy and carbon savings. Our design will also provide LUX level to ensure compliance.
The Woodward Group Energy Solutions team is committed to helping build energy efficient and environmentally friendly spaces without compromising on aesthetics.
Our experienced engineers use the latest LED technologies to supply and install tailored lighting solutions for businesses of all sizes and across all sectors. We also offer financing options, where your monthly repayments cover the electricity cost savings, thus making the scheme cost neutral and more cash positive.
To find out more about how we can help you reduce your energy costs, please give us a call on 01283 819379 or send an enquiry here.