It is vital that businesses adhere to DSEAR in order to safeguard employees from potentially dangerous substances in the workplace. But how can you ensure your business is DSEAR compliant? Woodward Group provides practical advice in our latest article.
In accordance with the Health & Safety Executive (HSE), the Dangerous Substances and Explosive Atmospheres Regulations 2002 (DSEAR) legally require employers to control the risks to safety from fire, explosions, and substances corrosive to metals.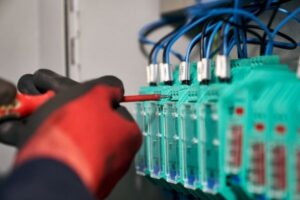 DSEAR should not be confused with ATEX, which consists of two EU directives that outline the standards for equipment to be used in an explosive atmosphere – this is often seen as a yellow Ex symbol on the equipment.
DSEAR applies whenever there is work being carried out by an employer (or self-employed person) and a dangerous substance is present that could be a risk to the safety of people as a result of fires, explosions or through corrosion. This includes the general public as well as other employees or workers.
What are 'Dangerous Substances'?
'Dangerous substances' are flammable gases, mists or vapours, or combustible dusts. Examples that you might find in the workplace include:
Solvents
Paints and varnishes
Flammable gases
Liquid petroleum gas (LPG)
Dusts from machining and sanding operations
Dusts from food stuffs
Pressurised gases
Substances corrosive to metal
All manner of substances can lead to an outbreak of fire or an explosion – even things you'd probably never think of being a hazard, such as flour or animal feed. That's what often makes controlling them not only difficult, but vital. The purpose of DSEAR is to make sure businesses are aware of these dangers and that they understand how to manage them responsibly.
To remain DSEAR compliant, employers must:
Carry out a risk assessment to find out what dangerous substances are in their workplace and what the potential risks are
Put measures in place to either remove or control those risks
Put controls in place to reduce the effects of any incidents involving dangerous substances
Prepare plans and procedures to deal with accidents, incidents and emergencies involving dangerous substances
Make sure employees are properly informed about and trained to control or deal with the risks from the dangerous substances
Identify and classify areas of the workplace where explosive atmospheres may occur and avoid ignition sources in those areas
Professional Guidance
We understand that many companies do not have the necessary in-house expertise to ensure hazardous area electrical design, installation and inspections are DSEAR compliant and adhere to ATEX directives. This is where we can help.
Our team of CompEx accredited specialists provide full hazardous area inspection, testing, installation and maintenance services for workplaces that may contain dangerous substances. To find out more, please get in touch.