A HVAC system is responsible for controlling the climate within a building, helping to regulate temperature and prevent indoor air pollution. During the colder winter months, having a good HVAC system can lead to a whole host of benefits for your business, as the team at Woodward Group explains.
What is HVAC?
HVAC is a generic term that stands for heating, ventilation and air conditioning. As well as being responsible for heating and cooling a building, HVAC is also a source of ventilation and extraction, allowing for moisture to properly escape from a building.
A good way of thinking about HVAC is as a broader umbrella term that applies to all sorts of interconnected air control systems. For instance, although air conditioning is included within the acronym, not all HVAC units are necessarily air conditioning units. They may include any combination of the following:
Boilers
Air conditioning units
Ducts and moisture vents
Ventilation and Extraction: MEV systems
Ventilation and extraction are the processes of introducing fresh air into indoor spaces while removing stale air. By law, all workplaces need an adequate supply of fresh air; this can be natural ventilation, from doors, windows etc, or controlled, where air is supplied and/or removed by a powered fan.
Letting fresh air into indoor spaces can help remove air that contains virus particles and prevent the spread of viruses such as COVID-19. The fresher the air that is brought inside, the quicker any airborne virus will be removed from the room.
Mechanical Extract Ventilation (known as MEV) refers to centralised systems that provide ventilation using a multi-point extract. A central unit is mounted and ducted to extract polluted air from the wet rooms of a building, such as kitchens or bathrooms. As there is no heat recovery, there is no requirement for any ducts to supply the replacement air. Instead, replacement air enters the home naturally through window vents or air bricks.
By extracting air continuously at a low rate, MEVs help reduce excess moisture in a building or facility to protect against condensation, damp, and mould.
Key Benefits of an Up-to-Date HVAC System
Lower electricity bills
For those considering installing a HVAC system for the first time, you will have much more flexibility with when and how you use the system and can therefore save money in the process. Following the initial installation, you'll quickly be able to see a return on investment.
For those who already have a system in place, the best way to lower your HVAC electricity consumption and reduce your monthly bills is to replace an old, outdated unit with a new energy efficient model. It's also important to schedule systems in for regular maintenance. When HVAC systems are dirty or worn out, they become less efficient; this translates to higher monthly electricity bills, as well as a marked difference in comfort levels as well.
At Woodward Group, we understand that maintenance is essential to ensure efficient, trouble-free running of all systems. Our team of qualified maintenance and repairs engineers can work around the clock to look after your systems if required. Please do get in touch to find out how we can help.
Better temperature variability
The temperature inside a building can differ considerably from room to room. Keeping on top of this this can cause outdated heating or air conditioning systems to work much harder than necessary. However, more modern HVAC zoning system installations can combat this by allowing you to regulate the temperatures of individual rooms to create an optimal environment. They work by allowing you to set unique temperatures in different rooms or zones in a building, thereby helping to balance more extreme, unpredictable temperature fluctuations.
This is particularly helpful for any staff working within the building; it means they can work at a consistently comfortable temperature, helping boost productivity levels. It is also highly beneficial for more specialist industries and sectors; for instance, those working in a science lab or in a commercial kitchen, where constant temperatures are critical.
Cleaner air
HVAC filters are designed to filter pollutants out of the air that pass through them. This means that they can contribute towards reducing the risk of the airborne transmission of viruses such as COVID-19.
As the Environmental Protection Agency states: "Air cleaners and HVAC filters can help reduce airborne contaminants including viruses in a building or small space. By itself, air cleaning or filtration is not enough to protect people from COVID-19. But when used alongside other best practices recommended by public health agencies, including social distancing and mask wearing, filtration can be part of a plan to reduce the potential for airborne transmission of COVID-19 indoors."
HVAC systems can also keep air clean by:
Trapping pet dander and other allergens
Blocking dust mites/dust
Removing dangerous volatile organic compounds from the air
Neutralising smoke
Removing unpleasant odours from areas like kitchens, bathrooms, and waste disposal units
Remote access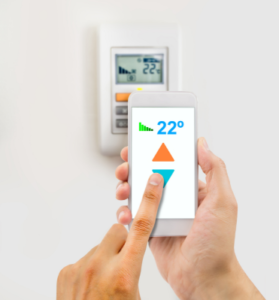 Another benefit of modern HVAC systems is that you can access and control them remotely from anywhere in the world. HVAC controls range from smart thermostats through to more advanced, integrated building management solutions.
Smart thermostats contain sensors that control the HVAC system in your building. Often available as apps that can be accessed on your phone, they provide a number of options at your fingertips that aren't available with a standard thermostat; for instance, you can program temperatures for different times of the day when you are away from the premises.
An Environmentally Friendly Solution
At Woodward Group, all of our HVAC systems are eco-friendly and energy star-rated, and always adhere to strict energy-efficiency guidelines. For more information about upgrades to a new system, or to find out how we can make maintain your older system to make it as efficient as possible, please get in touch.