With the long winter evenings, site security should be a high priority for businesses that want to protect themselves against theft or vandalism or are concerned about the wellbeing of their workforce. Woodward Group shares our list of top security solutions for protecting your business.
A break-in or damage to your business property is not only distressing for you and your employees, but it can also threaten your business itself. For example, theft or damage of essential items, needing to close to repair or replace any damage, data breaches and loss of trust in staff welfare from your workforce.
It is therefore essential that you have the best possible security solutions in place to protect your business and staff.
When it comes to security, there are several options available and you should seek advice to choose the right solutions for your business. Here we highlight our top security solutions and their benefits to help you make a more informed decision.
CCTV Systems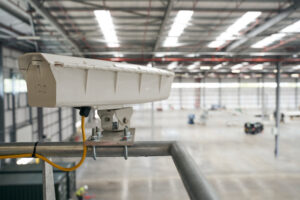 Installing a modern surveillance system is sadly more crucial now than ever with crime increasing and burglaries happening as a common occurrence. CCTV cameras are a fundamental tool for keeping your property secure, along with maintaining the welfare of your company's employees and operations. It promotes safety in the workplace by allowing you to monitor activity, reduces criminal activity, both from break-ins and internal theft, as well as deters potential opportunists from damaging your property.
However, installing a CCTV camera alone may not be a sufficient way to protect your business, though it is a crucial component, and we would generally advise businesses to use CCTV alongside other solutions where possible to ensure the best protection.
Access Control
Physical access control creates physical barriers to a property, such as a locked door or turnstile, to prevent unauthorised access into a building or certain area. It allows business owners to control who can enter your premises and which personnel can access specific areas within the building. This is especially useful in facilities that require higher levels of security and protection.
Access control systems usually use access cards or key fobs to authorise individuals into certain areas, eliminating the need for traditional keys, which can easily and often get lost or mislaid, thus creating a potential security breach.
As well as protecting businesses from vandalism, theft and trespassing, access control systems can also protect you and your staff from unauthorised visitors entering your premises. It allows you to identify exactly who was in which area or space at a specific time in the event of an incident, accident or theft.
Intruder Alarm Systems
Installing a reliable intruder alarm system can be one of the easiest ways for businesses to help prevent unwanted visitors to your site. They not only serve as a deterrent to potential intruders, but also, should an intrusion occur, they provide a warning as well.
One of the better solutions to business protection is combining an intruder alarm system with a CCTV system to provide dual protection, however we recommend conducting a site survey with a security expert, such as a member of the Woodward Group team, to assess the most suitable solution for your business. A site survey will highlight any weak security points of your premises.
In addition to deterring thieves and vandals from entering your premises, an intruder alarm system can reduce your insurance premiums, especially with the introduction of intruder alarm monitoring. This adds an extra layer of security to your building because it ensures 100% that somebody (other than the intruder) is aware of the break-in.
Security Barriers/Gates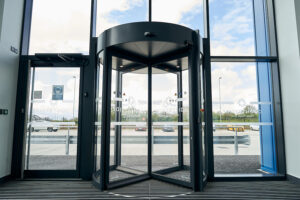 The use of security gates and barriers are a popular solution for securing the perimeter of your business. Having outdated, broken or a complete lack of perimeter security opens you up to being an easy target by criminals. Buy proactively limiting access to your site with barriers or gates, this acts as a strong deterrent against crime, particularly those involving vehicles to gain entry or escape quickly from your site.
Barriers and gates are a simple and easy-to-use method of increasing your security levels. Access can be controlled via a variety of different methods including tokens, cards, and pin pads.
Intercom Systems
 Intercom systems allow you to speak to and/or see visitors to your premises before they are granted permission to enter so that you can effectively screen people for security purposes. When used with other security measures, intercoms can be an effective crime deterrent.
There are several different types of intercom systems available from wired to wireless and audio-only to video. Wireless and mobile connection options tend to be the most popular and cost-effective, but intercoms can often integrate with existing security equipment, meaning you may not need to purchase a brand new system to enjoy the benefits.
Security Solutions: How we can help
As an SSAIB accredited company, Woodward Group is fully equipped to deliver a range of security solutions including CCTV, intruder alarms, and security barriers and gates, to help keep your business safe.
We can undertake a free site risk assessment to determine your security needs and ensure your building is fully compliant with the latest industry standards. Our experienced team of engineers can also carry out a variety of services, from installations, monitored police response and take-overs, to maintenance management.
Please call our security experts on 01283 819379 or send us a message here.