The best possible way to protect yourself and your business against the risk of a fire is to ensure one never happens in the first place. This can be achieved by carrying out regular fire risk assessments, as Woodward Group explains. 
A fire risk assessment provides businesses with an insight into how protected any given property is, helping to ensure the safety of its occupants in the event of a fire. It also allows businesses to identify areas for improvements and take further steps to achieve an appropriate level of fire safety.
The Fire Safety Order 2005
Protecting your business against the threat of fires is required by law. The Regulatory Reform (Fire Safety) Order 2005 or "the Fire Safety Order" came into force on 1 October 2006 and applies across England and Wales; it states that it is mandatory for business owners to carry out a detailed assessment identifying the risks and hazards in a commercial premises.
Who Is The 'Responsible Person'?
Under the Fire Safety Order, if you are responsible for the premises, you need to make sure that a Fire Risk Assessment has been completed.
You are the 'responsible person' for fire safety on site if you're an employer, the owner, the landlord, an occupier, or anyone else with control of the premises (such as a facilities manager, building manager, managing agent or risk assessor).
Carrying Out An Assessment
The responsible person doesn't necessarily have to carry the risk assessment out themselves, but they are still responsible, by law, for ensuring their premises meets the order. The assessment should include:
Identifying the fire hazards.
Identifying people at risk and paying particular attention to vulnerable people, for example the elderly, young children or those with disabilities.
Evaluating, removing or reducing any risks.
Recording findings, preparing an emergency plan and providing training.
Reviewing and updating the fire risk assessment regularly.
Why Is A Fire Risk Assessment So Important?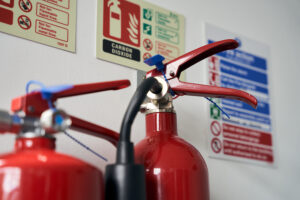 Aside from the fact that it is the law, there are a whole host of reasons why a fire risk assessment is vital. Most importantly, having a well-considered, up to date fire safety policy could mean potentially saving lives. According to the government report of fire statistics, there were 286 fire-related fatalities last year; fire risk assessments can help to significantly lower this number.
They ultimately give you peace of mind that all of the risks have been identified and the area your business is operating in has been made a safer space because of it.
How We Can Help
If you do not have the expertise or time to do the fire risk assessment yourself, you need to appoint a 'competent person' to help.
As professional risk assessors, our fire safety experts can conduct a full assessment of your building, identifying any fire hazards and potential individuals at risk. We put in place robust processes to evaluate, remove or reduce the risks and then prepare an emergency plan and provide training on all aspects so that you are fully prepared in case of an emergency situation.
Through our ongoing support service, we'll review and update the fire risk assessment regularly to ensure processes are continually in line with regulation standards.
To book your free consultation or find out more about our Fire Safety services, please call 01283 819379 or email us on 

[email protected]