Servicing Your Fire Alarm
As an employer, it is your responsibility to make sure every step is being taken to ensure the safety of your employees and everyone on your premises. One of these steps being regular maintenance of Fire Safety Systems and Alarms.
Fire alarm tests are an essential and critical exercise as they have to be consistently working at their optimum in case the worst happens. Everyone in the building should know how they sound, with you or another competent person logging the time and date of the test. If a fault is found, immediate corrective action must be taken.
Frequency of Fire Alarm Tests
Government legislation states that all commercial premises are required by law to carry out Fire Alarm Maintenance at least twice a year. This is to check that it is working as it should.
Carrying out regular Fire Alarm Maintenance will help give you confidence that your workplace has effective fire safety, thus reducing false fire alarms which can lead to a loss of man hours with staff having to exit the building.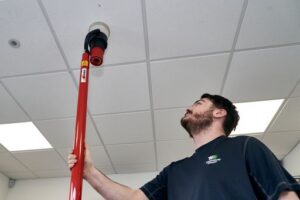 How Testing & Inspection Works
They can help you to ensure that your workplace is fire-safe, meets the legal requirements, has fire safety equipment such as emergency lighting and extinguishers checked, and follows the standardised process for maintaining Fire Alarms.
What's Included in A Fire Alarm Maintenance service:
Maintenance completed in accordance with BS5839

Minimum of 2 visits per annum, on a 6-monthly basis

Dedicated 24/7/365 call-out facility, should your system develop a fault

Fully FIA (Fire Industry Association) trained and BAFE qualified, multi-skilled Fire Alarm Engineers

sent to your business, anywhere within the UK.

Advice on system maintenance or improvements

Expert knowledge and friendly customer service should there be any queries
Proud to be Third-Party Accredited to BAFE SP203-1
BAFE (British Approvals for Fire Equipment) is an independent registration body for third party certified fire safety and protection companies and a register of quality fire safety service providers across the UK.
Woodward Group is proud to be third party accredited to BAFE SP203-1 for our Fire Detection and Alarm Design, Installation, Commissioning/Handover and Maintenance.
The scheme recognises the importance of compliance for fire detection and alarm systems. We are regularly audited by BAFE to ensure we're working to required standards, including paperwork inspections and random checks on properties where we have worked.
This scheme offers assurance that we work to the highest standard and pride ourselves in providing a 100% reliable service for our clients with regular audits on our processes.
To book your free consultation or to find out more about our Fire Alarm Maintenance service, please call 01283 819379 or email us at [email protected].