With the UK government planning to end the sale of new conventional petrol and diesel cars and vans by 2030, workplace charging is increasingly being seen as a valuable tool for employee attraction and retention. In this article, Woodward Group shares some of the many benefits of workplace EV charging.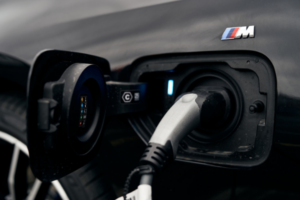 Statistics indicate that the electric car market is growing quickly, with more than 235,000 pure-electric cars on UK roads at the end of March 2021 – and over 495,000 plug-in models including plug-in hybrids (PHEVs), according to Next Green Car. This is likely as a result of the increased benefits of workplace EV charging, as businesses try and move towards a greener future.
The benefits of workplace EV charging include:
Incentivise staff – Benefit in Kind
Company car tax, known as Benefit in Kind tax (BIK) is a tax on the "Benefit in Kind" that an employee is receiving when they are provided with a company care that they also utilise for personal use. The government sets BIK rates that encourage employers and company car drivers to opt for electric vehicles.
For company car drivers and fleet operators choosing an electric car, the tax rate on BIK is just 1% this tax year. This 1% rate also applies to hybrid vehicles with C02 emissions from 1-50g/km with an electric range greater that 130 miles. In comparison, a standard car with 110-114g/km would have a 26% BIK rate.
The OLEV Workplace Charging Scheme grant
The Workplace Charging Scheme (WCS) is a government initiative that provides support towards the up-front costs of the purchase and installation of electric vehicle charge points. The voucher-based scheme reduces the cost of a new workplace charging station (single socket) by 75%, capped at £350 per socket up to a maximum of 40 charge points across all sites for each applicant.
Any business with off-street parking can apply for the grant, but they must use an OZEV-approved installer, such as Woodward Group.
Find out more about why businesses are being urged to take advantage of the EV Workplace Charging Scheme here.
Improve green credentials
One of the main benefits of EV workplace charging is that is demonstrates a clear environmental commitment. Electric vehicles run on batteries rather than fossil fuels like petrol and diesel, which means they don't emit large quantities of carbon dioxide into the air – a major cause of climate change. A reduction in exhaust fumes also means reduced harmful air pollutants like sulphur dioxide (SO2) or nitrogen oxides (NOx).
By investing in electric vehicles and EV charging infrastructure, businesses can therefore significantly improve their Corporate Social Responsibility strategy. Encouraging employees to use electric vehicles is one of the best ways to cut down on your carbon footprint. It also shows you are embracing changing technologies of the future.
Smart App Control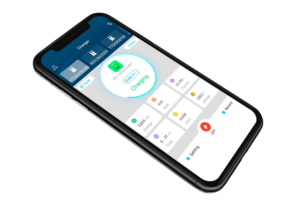 Smart charging can make electric vehicles even greener still. All of the Woodward Group EV charging solutions can be centrally controlled and monitored via smart apps. They can be set to power up vehicles when it's most environmentally friendly to do so, such as when carbon emissions are likely to be at their lowest. Additionally, fleet vehicles, for example, could be set to charge overnight when energy costs are lower.
The apps include features that allow you to choose and customise charging rates; prioritise off-peak charging to maximise savings; and acts as a remote control for your charging unit.
Convenience for employees & visitors
Despite the electric car market's rapid growth and the rise in demand for more convenient and accessible charging, an estimated 75% of electric vehicle users are still unable to charge their cars at work in the UK.
Installing EV charging points at your business premises will make it easier for employees to make the switch to electric sooner rather than later if they have the peace of mind that they'll be able to charge their vehicle while they work. It can also be a great incentive to help attract and retain new talent to your business. And with the Workplace Charging Scheme, it makes sense to start your EV charging project now while you can take advantage of the grants available.
How we can help
Woodward Group provides a range of industry-leading EV charging solutions for businesses and workplaces of all sizes. Through our EV charging point installation service, our aim is to help people and businesses reduce their carbon footprint, reduce running costs of company vehicles and make the switch to clean and affordable energy.
To discuss your EV charging point project and start reducing your carbon footprint, please call 01283 819379 or email us at 

[email protected]