The Government recently announced it's boosting its financial support of electric vehicle charging by an additional £50 million and has extended the Workplace Charging Scheme grants for businesses. Woodward Group's EV charging installations team explains.
The Government's commitment to ending the sale of new petrol and diesel cars and vans by 2030 has prompted further investment into electric vehicle charging schemes to accelerate electric vehicle uptake and make EV charging points more easily accessible.
Part of this investment is to encourage businesses, including SMEs, to get on board and play an active role in the drive towards a zero carbon-emissions future. Installing EV charging points at places of work will provide an added boost to employees as they return to the office and support them in making the switch to electric vehicles.
The Workplace Charging Scheme (WCS) grant
The Workplace Charging Scheme (WCS) is a government initiative that provides support towards the up-front costs of the purchase and installation of electric vehicle charge points. The voucher-based scheme reduces the cost of a new workplace charging station (single socket) by 75%. This is capped at £350 per socket, up to a maximum of 40 charge points across all sites for each applicant.
Any business with off-street parking can apply for the grant, but they must use an OLEV-approved installer and OLEV-approved products.
Applying for the scheme is straightforward – applications are made through the government's online application portal. If eligibility checks are successful, you will be issued with a unique identification voucher code via email, which can then be given to an OLEV-authorised WCS installer like Woodward Group.
Why install EV charging points at your workplace now?
2030 may seem like a long way off, but it'll be upon us before we know it. The electric car market is growing rapidly and with it the demand for more convenient and accessible charging. Installing EV charging points at your business premises will make it easier for employees to make the switch to electric sooner rather than later if they have the peace of mind that they'll be able to charge their vehicle while they work. And with the Workplace Charging Scheme, it makes sense to start your EV charging project now while you can take advantage of the grants available.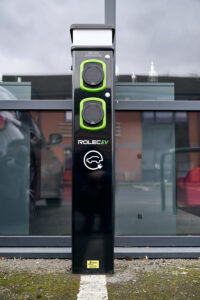 Additional benefits of installing EV charging points at your business premises include:
Employee benefit/perk
Reduce running costs of company vehicles/fleets
Client/visitor convenience
Improve your green credentials
No tax to pay on electric charging
How Woodward Group can help
Woodward Group is an OLEV-approved EV charging point installer. We provide a complete cost-effective supply and installation service through our partnership with a leading supplier of high quality, smart EV charging points.
Our experts can advise on the most suitable EV charging solution for your business. We suggest that we conduct a site survey before any applications are made for the Workplace Charging Scheme to give you an understanding of what can be installed at your site. We will talk you through the different charging options and can also help with home charging installations for you and your staff.
To discuss your EV charging project or if you have any queries about the Workplace Charging Scheme, please call us on 01283 819 379 or complete our contact form here and a member of our team will be in touch.