World EV Day is a global movement that highlights and promotes the role of electric vehicles in the move to net zero and decarbonisation. To celebrate World EV Day 2021, Woodward Group debunks the top five myths surrounding electric vehicles and EV charging to help #drivechange.
Myth One: EVs Don't Have Enough Range
When electric cars were first introduced properly to the UK market back in 2010, it is true they had a more limited range. But over ten years' worth of development later, there is now a much greater number of affordable electric vehicles that offer over 200 miles of charge, and that number will likely increase exponentially as the world continues moving towards greener energy. Top range models can now offer more than 300 miles of range per charge, which is not far off what you'd expect from a tank of petrol in a small car.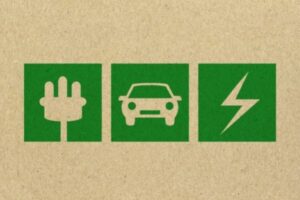 According to Car Magazine: "The latest generation of electric cars have sufficient range to meet most drivers' daily use with ease; many EV owners will simply charge at home or work and rarely have to bother with other charging infrastructure."
Myth Two: EVs Aren't Really Green
Some people argue the point that EVs still pollute the atmosphere, at least indirectly, via the power plants that produce the electricity necessary to operate them. But even in areas with the dirtiest coal-fired plants, EVs still have lower CO2 emissions overall.
This is because electric vehicles run on batteries rather than fossil fuels like petrol and diesel, which means they don't emit large quantities of carbon dioxide into the air – a major cause of climate change. A reduction in exhaust fumes also means reduced harmful air pollutants like sulphur dioxide (SO2) or nitrogen oxides (NOx).
Plus, unlike petrol cars, electric cars will get greener if a wind farm or other renewable energy source opens up nearby. This is because EV charge points can be powered by renewable energy.
Myth Three: EVs Are Too Expensive
Though electric vehicles are generally more expensive to buy, they usually work out cheaper than an equivalent petrol or diesel in the long run, especially if you use them regularly for work.
Company car tax, known as Benefit in Kind tax (BIK), is a tax on the "Benefit in Kind" that an employee is receiving when they are provided with a company car that they also utilise for personal use. The government sets BIK rates that encourage employers and company car drivers to opt for electric vehicles.
For company car drivers and fleet operators choosing an electric car, the tax rate on BIK is just 1% this tax year. This 1% rate also applies to hybrid vehicles with C02 emissions from 1-50g/km with an electric range greater that 130 miles. In comparison, a standard car with 110-114g/km would have a 26% BIK rate.
By investing in electric vehicles and EV charging infrastructure, businesses can therefore significantly improve their Corporate Social Responsibility strategy. Find out more about the benefits of workplace EV charging for employers here.
Myth Four: UK Infrastructure Can't Support EVs
According to EDF Energy, there are now over 42,000 charge point connectors across the UK in over 15,500 locations – that's more public places to charge than petrol stations, with around 7,000 charge point connectors added in 2020 alone. Tools like Zap Map are now also available, which makes finding charge points easier for EV owners and allows them to plan longer journeys, pay on participating networks and share updates.
Furthermore, the Government's commitment to ending the sale of new petrol and diesel cars and vans by 2030 has prompted further investment into electric vehicle charging schemes to accelerate electric vehicle uptake by businesses and make EV charging points more easily accessible for their employees. Find out more about the Workplace Charging Scheme grant here.
Myth Five: EVs Take Too Long To Charge
The time it takes to charge an electric car depends on the size of the battery and the speed of the charging point. A typical electric car (60kWh battery) takes just under 8 hours to charge from empty-to-full with a 7kW charging point – though most drivers will top up their battery charge as they go rather than charging it from empty. Rapid chargers are also available and are the fastest way to charge your electric vehicle, providing between 60-200 miles of range in half an hour.
As previously mentioned, charge points are quickly becoming a must-have essential for every business. Many employers are installing EV chargers on their premises, so that employees, clients and customers can charge their vehicles as they park – helping retain staff and incentivising customers to return to their business.
EV Charging Solutions
World EV Day is a global movement that encourages people to drive change together. It is a day of celebration of emobility, and a day to shift the transition to sustainable transport with consumer, business and policy outcomes.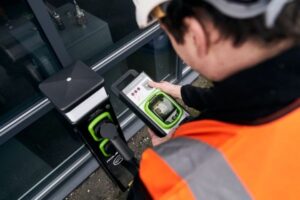 As Office for Zero Emission Vehicles (OZEV) approved installers, Woodward Group provides a range of industry-leading EV charging solutions for businesses and workplaces of all sizes. Through our EV charging point installation service, our aim is to help people and businesses reduce their carbon footprint, reduce running costs of company vehicles and make the switch to clean and affordable energy.
To discuss your EV charging point project and start reducing your carbon footprint, please call 01283 819379 or email us at 

[email protected]

. For more information about World EV Day 2021, please visit www.worldevday.org.