Having systems in place to help your staff and other individuals inside your building evacuate if an event such as a fire, earthquake, or loss of power occurs is integral to minimising collateral damage and preventing death.
During these possible scenarios, your site's lighting may malfunction or even cease working entirely. A good emergency lighting system ensures evacuation goes smoothly, and injuries are less likely to occur during such events.
To ensure your site is properly lit, make sure you have installed your luminaires in the following areas:
Final exit(s)

Junctions

Corridors

Stairways

Alarm areas

Escalators

Toilets

Lifts

Control rooms

Open areas

Hazardous areas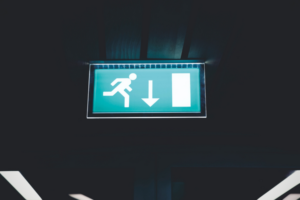 Once your luminaires have been sited, check if you need additional lights to cover the space. Sometimes you'll need additional luminaires to ensure proper light levels are achieved in the areas you wish to illuminate. To check if your luminaires are adequately lighting the areas listed above, use spacing tables to ensure your lights are properly spaced to achieve the minimum lux levels of any given area.
For escape routes, corridors, and hallways –

A minimum of 1 lux on the centre line

In open areas – A minimum of 0.5 lux from the centre to within 0.5 meters of the walls
Exit signs – Should be illuminated or have a backup luminaire within 2 meters of horizontal height
Exit signs should also adhere to the requirements of the European Signs Directive and should only follow one format throughout the site.
If you'd like to find out more about our fire suppression systems and fire alarm installations, visit our fire safety page, or book a free consultation by calling us at 01283 819379 or emailing us at [email protected].