At Woodward Group, we hold in high esteem the value of working together, as any successful project requires teamwork. An American basketball coach once said, "The strength of the team is each individual member. The strength of each member is the team." Our Get To Know Series seeks to spotlight one of our team members, who has worked his way to where he is now with utmost dedication and commitment.
Name: James Gallimore

Job Title: Site Manager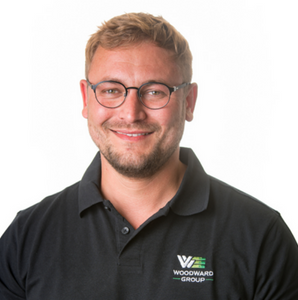 James considers being our full-time Site Manager as one of his greatest achievements. When he returned in 2018 to work with Woodward Group, he went through various qualifications to fit the bill. Though it required diligence and hard work, James persevered and is now one of our elite managers, liaising between our team and clients. With a critical eye, James also supervises the process of ensuring projects are completed safely, within the agreed cost, and on time.
James is particularly fond of summer, where the longer days give him more time to spend on things he thoroughly enjoys, like farming, walking, training his dog, and going out to see family and friends. When he takes off his manager's hat, he selflessly involves himself in events of a worthy cause.
Over the years, James has raised awareness and funds for noble movements like running a full marathon for Macmillan Cancer Support in 2019; where he thought it would be impossible to finish the race without stopping, but his vigour won him over.
Having a great appetite for travel, James has been to several destinations like Wales, Ireland, Scotland, France, Germany, Italy, Montenegro, Croatia, Iceland, South Africa, Egypt, Spain, Portugal, UAE, and The Netherlands.
Want to join our team?
You can discover more about career opportunities at Woodward Group here.